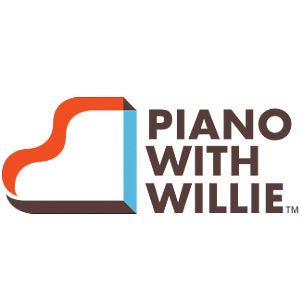 Product: Piano With Willie
Price:
Platforms: Works with both Windows and Mac.
Pros – Best quality video tutorials
Cons – More expensive than most other programs if you want to get the most out of it.
The creator and tutor, Willie Myette, is an accompished pianist. Willie graduated from Boston's Berklee College of Music and has over 25 years of experience in the art of playing piano and is the founder of 'JazzKids' which is a unique and fresh approach for those interested in jazz music. He has published books, CDs and CD-ROMs for all levels of students, but with an emphasis on a younger audience.
Now he has created Piano With Willie which provides piano lessons that encompass many different styles of piano playing as well as lessons for all different ages and skill levels.
Overview
Piano With Willie is an online piano learning program accessed via the internet.  There are numerous lessons and courses available that are delivered via video tutorials and also live training events (available to paying members).  These live training events allow you to attend live training with Willie Myette himself via Skype, allowing you to obtain live and instant feedback… As far as piano lessons go, you can get much closer to the real thing than this!
First Impressions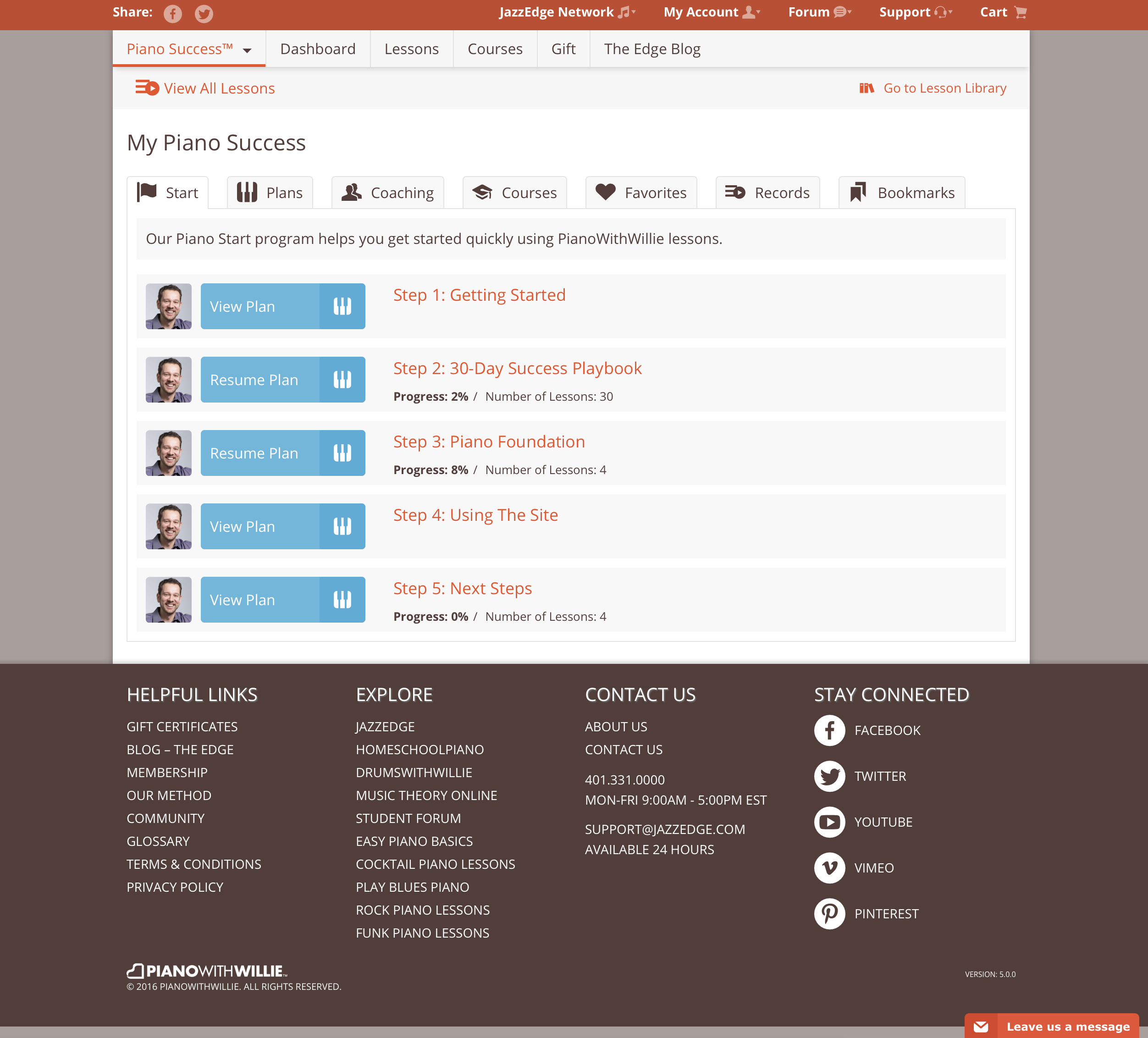 I joined as a starter with the FREE membership, regardless of what membership you choose if you are a complete beginner i recommend you start from the beginning.  I found the initial start up slow, requiring me to send emails and download materials including a 'piano success playbook', but having worked my way through this i realised the importance.  Willie does a great job at building a foundation for the learning so by the time you start the video tutorials and actually begin playing along you are confident and will find the lessons a lot more enjoyable.
I was very impressed when the lessons started picking up with the whole interface and how the program flows.  Willie gets you confident with the material before you start the practical lessons, so you really want to carry on after finishing a video tutorial, because you know you will be succeeding..
M first impressions were good, the whole program came across extremely professional and you can certainly see the quality with this program and why it costs more than any of the others. However this being said, with the FREE starter membership you are getting access to the programs initial tutorials which are of course all on the same platform.  So there really is nothing to lose in trying it out….
User interface
The program is easy to navigate and well presented, there is even a tutorial to show you how to get around the site if you are stuck!  Lessons and song choices are well categorised and you can filter through the lessons by element, level genre, tonality and even key and time signatures, making it easy to find the exact lesson plans you want to learn.
The Lessons
Piano With Willie provides a structured lesson plan that is well balanced.  Willie is determined to keep the lessons in bitesize yet keeping the content engaging and comprehensive.  He even makes sure he has a timer in his videos (which he quirkley makes sure he sets at the start during some of the videos…).
From the beginning Willie gets you learning the foundations of Piano in a 30-Day success playbook lesson plan.  These are 30 lessons covering the basics and are done at a brilliant pace, you will find yourself learning so much in so little time and Willie has such an energy in the videos it keeps you engaged.
Willie continues the lessons at the same pace with the same dedication with any level of student, you will not get left behind in the pace.  He brings to the surface common issues with piano such as time and effort and helps students address these 'real issues', teaching you how to create your own piano plans etc.  This is a human touch to the programs which i think is missing from most other programs you will find.
One of the best parts about becoming a paying member is having access to the premium features of this program such as 'Live training'. You will be able to attend live video training with Willie and ask him any questions or address any concerns you have during the lessons.
The song choices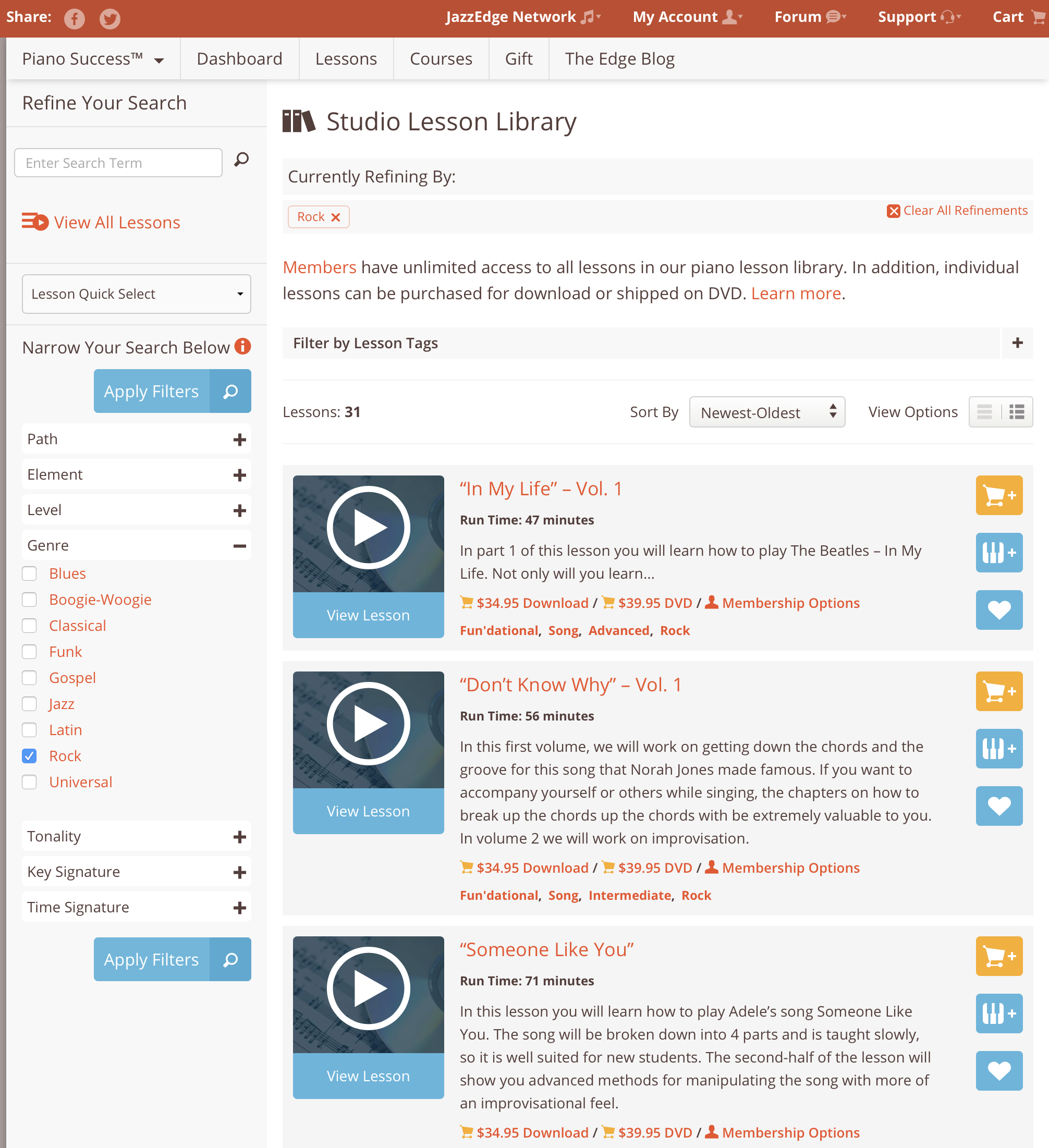 There are many songs available to learn with Willie but not so many modern 'top 40 hits' as you'd expect to find in other training programs such as Playground Sessions or LearnPianoIn30Days.  The songs in Piano With Willie are quality choices which all cater to the needs of different styes and will help with techniques.  There are modern songs available such as songs by 'Adele' or 'Norah Jones'.  Unfortunately the song lessons are only available to paying members so you will need to upgrade to access these.
Help and support
Members have access to an online community where you can ask questions about lessons and start discussions with the instructors and other students. You can also contact Piano With Willie by phone or email if you have any questions concerning your lessons.
Summary
Piano With Willie provides a well structured course that is delivered at a decent pace with a good flow.  There is no way to keep track of your playing but the progress is monitored as you go and the lessons are that well structured you get an idea of your self achievements bu simply proceeding to the next lessons with confidence.  The program isn't the cheapest out there but is a testament to the quality and sheer professionalism you will be getting for your money.
If you don't mind the membership plans this is definitely worth your money
Jon


www.waystolearnpiano.com