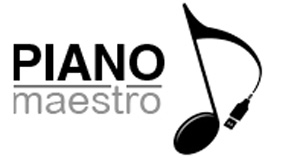 Some might say that learning to play the piano can be a long and difficult journey…. but it doesn't have to be.
It can be FUN, EASY, ENGAGING…. And with the 'PianoMaestro', it can be a significantly shorter journey too!
Learn to play ANY SONG within 30 days GUARANTEED!
I was sceptical when I first read this claim but having ordered a PianoMaestro and tried it for myself, I can say that it 100% works! It's a brilliant training tool, working on muscle memory.  There is no requirement to know how to sight read music and therefore you can just learn any song you want regardless of your pIano ability and ENJOY PLAYING!
So, what is PianoMaestro? 
PianoMaestro is a portable electronic USB device that sits on top of the black keys of your piano. The PianoMaestro's 48 lights correspond to the keys on your piano, indicating which notes to play at the right time. You can slow down, separate left and right hands, and repeat songs until committed to memory.
This guide light technology is usually something you see on more expensive pianos in the region of $7000, so purchasing the PianoMaestro for use on any keyboard or piano you already own is a sound investment!
The PianoMaestro is compatible with Synthesia, Apple Logic and other third-party software. In Synthesia you can set up the PianoMaestro so the lights wait for you to play the correct notes before advancing to the next.  This is a great addition and makes mastering songs a much quicker and effective process.
The PianoMaestro works with standard MIDI files, there are literally millions of songs online to choose from.  All you need to do is search the web for your song in MIDI format, download the file, and using the software provided the PianoMaestro will show you how to play your chosen song on the piano!
Whether you are a learning or teaching, the Piano Maestro is a great tool.  When coupled with other MIDI software or training options such as Playground Sessions or Piano Marvel, it can be a powerful training package.
Still not convinced…? 
If you are still sceptical, it may interest you to know that PianoMaestro have a  ZERO RISK – 30 day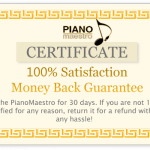 money back guarantee.
Food for thought: Were you happy with the progress you made with your last three piano lessons? If not, were you able to get your money back? Try a PianoMaestro out today – you really have nothing to lose!
Check out the media response….
Wired: "…incredibly simple and – compared to the price of your piano –cheap."

"the gadget is available now, so go dust off that piano"

"Highly recommended!"
Digital Reviews: "For the price of a few piano lessons you will have a teaching device that would last you a lifetime and gives access to learning to play the piano to all the members of the family…"
ABC: "The PianoMaestro has the potential to help so many kids who are struggling with the piano…"
Gizmag: "You could of course try to learn the instrument using a tablet or smartphone app, but we're betting that it won't be anywhere as beneficial as learning on the real thing"
 Available to purchase on Amazon NOW!