The Learn & Master series is by far the most complete DVD instruction course i have found and is easily the best quality out there being from Legacy Training Systems.  I tend to find most of the DVD and instructional videos out there quite boring and repetitive to watch.  However the Learn & Master series is the complete opposite!
Does exactly as it says on the tin!
Having tried the Learn & Master series before with Guitar and now Piano, I've found them to be really easy to digest.  I found myself going through a whole course in a day and mastering everything in its content (just like it says on the tin!).
When i say its the most complete course, i mean it is jam packed with everything you will ever need to learn.  So if you are Serious about starting piano or even already play and want to brush up on some styles, these Learn & Master series are perfect if you don't want to have to go online or don't have the capability to learn online.
Learn piano in its entirety…
You have probably been self taught, learned a few songs on youtube by watching, repeating and committing to muscle memory but never really fully learned how to play piano in its entirety.  Will Barrow walks you through from start to finish and teaches you everything you need to know about piano in its entirety.  It really is a full course.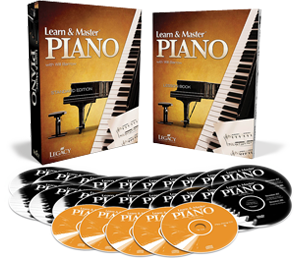 The most complete DVD course on the market!
The course consists of a huge 20 DVDs, 5 play-along CDs so you can put what you've learned into practice and a 100+ page lesson book.  All of the content in the course is delivered with clear step by step instruction and repeats just enough so you grasp each section without having to keep rewinding.  Its done very well and i found it extremely easy going.
There are a lot of DVD courses out there that can be very overpowering on the content and the format in which it is delivered can lack enthusiasm which doesn't get you engaged.  Learn & Master is a whole different ball game which i'm sure you will love!
Its not just DVD's and written material…
Despite Learn and Master being a DVD and written material course, you can still access their online student support site where you can question the instructors, post your profile, track your progress and even chat with other students in an online community.
The DVDs look well polished with easy to navigate menus. Real time animated keyboard makes it easy for you to follow instruction. Professional Grammy award winner musicians feature in the DVD series who help entertain and teach.
So many topics… so many learning styles!
You will learn an enormous amount during the course from basic skills all the way through to an advanced level.  There is quite simply too many topics to list but here are just a few things you will Learn & Master:
Layout of the Keyboard
Good Practice Habits
Playing Chords and Melodies Within the First Two Sessions
Major & Minor Chords
Reading Music & Chord Charts
Major, Minor, Pentatonic & Blues Scales
Learning Chords by Numbers & Chord Shapes
Learning Chord Progressions & Melodies by Ear
Chord Inversions
Reading Rhythms & Syncopation
Keys & Key Signatures
Playing on the Black Keys
Reading Sharps & Flats
Arpeggios
Chord Cadences
There are many different styles of piano you will learn, unlike most piano courses, Learn & Master Piano is complete enough to offer training in all of the most popular styles. You can study them all or just the ones that interest you most.
The play-along CDs allow you to practice your songs with an actual band, and i don't mean cheesy loops and generic sounding computer tracks, but actual recordings with professional musicians in a real studio. All designed to help you make play beautiful music—right from the start!
From beginner to advanced…
There are also courses for the more intermediate or even professional player, which just shows the level of tutorship here.  The higher level classes will teach students such things as
Developing your ear to hear melodies and chord progressions and how to find them on the keyboard.
Learn to incorporate simple chord substitution tricks to transform a basic chord progression into something memorable.
Learn the licks and stylistic techniques to transform melodies to fit a wide variety of styles.
Learn how to beautifully accompany a singer by creating a musically interesting part that really complements the lyrics.
Learn the chord voicings the pros use to create the sounds you hear on the radio every day.
Head over to Learnandmaster.com to read more about what the Legacy Training System has to offer…