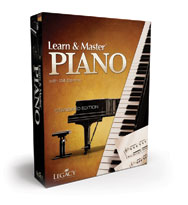 Learn and Master piano with grammy award-winning musician Will Barrow!
Product: Learn and Master Piano
Price: Direct from Legacy Training $249.00,
(Best price from Amazon $149.00)
Platforms: DVD series, Song book literature and play along CD's.  Also access to student support site (most operating systems)
Pros – Professionally produced videos, Most complete and best courses available for the value
Cons – No MIDI/digital learning capabilities.
Grammy Award-winning tuition
Learn and master piano is a complete piano tuition course by 'Legacy Learning Systems' who are industry leaders in comprehensive packages such as this.  They have also created courses in guitar, drums and even dance and painting!  The course is delivered across a massive 20 DVD's! with 5 play-along CD's and a 100+ page lesson book.  Your teacher throughout the course will be Grammy Award Winning musician song writer, Will Barrow.

First Impressions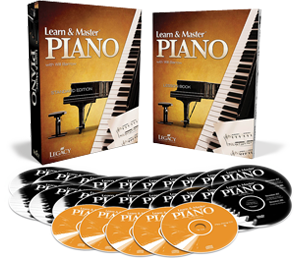 My first impression of this product is how tidy and professional it looks.  Right from the packaging, the box and contents is very well presented which is a hint of the quality you are getting in this course.  There are 20 DVDS so the box folds out and presents the DVD's nicely.  It would make a fantastic gift for someone.
The videos all look studio quality (because they are!), professionally produced.  From the off all those reservations of spending so much money on DVD's melts away, as you start to realise you have invested in a real professionally produced Piano course… series value for money!
At first i'll admit i was a bit jubious about whether a DVD course would be able to complete with the digital world out there, but i was very impressed with the way the course is structured and how comprehensive it is.  The course is split into so many different actions such as workshops, play-along CD's and students being encouraged to take the lesson book to the keyboard separately to practice what they have learned.  It all keeps you engaged in a very grown up way which i liked.
User interface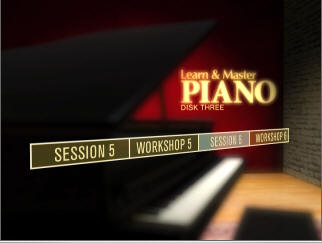 DVD's are obviously very easy to operate anyway, but the menus are particularly well laid out and just look visually superior.  Usually just the menu is enough to put people off, but again the hint of quality entices you in.  You go through the course starting at DVD 1 and working your way through.  The tutorials are structured and the only interface required is the ability to listen and follow instruction.  You are able to pause, rewind and skip (sometimes aided along by Will Barrow who will tell you the best place to skip or pause if required).
Apart from the DVD's, play-along- CD's and lesson books, Learn and master piano also have many great resources on their website.  Including bonus exercises, digital lesson books and discussion boards/forums for registered users.  You can upload your own audio or video music, chat to others about the program even set up your own musical profile page and contact other students.  Its a learn and master piano community!
The lessons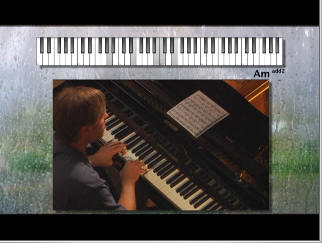 Learn and master piano is designed primarily for adults.  Unlike lessons you may have had as a child, you will start playing popular songs straight away and develop you skills from here using a simple step-by-step progression.  Learn and master piano covers beginners and basics all the way through to advanced techniques.  There are way to many lessons to list but you will learn many techniques and basics including layout of the keyboard, major & minor chords, chord inversions, improvising, arpeggios and various styles such as blues, boogie-woogie, pop, rock and latin.
The lessons start with basics of keyboard setup to playing popular songs.  During the sessions students will learn many skills and techniques as above.  After each lesson a workshop immediately follow where you will practice what you have learned with your teacher.
So yes, although there is no MIDI interface or special way to track your progress in learn and master piano, Legacy have done a very good job at making sure students progress gradually and test their knowledge practically along the way.  Students can then enhance their experience further by using the play-along CD.  The CD's themselves are structured until the final track when you play solo with the band.  Each track allows you to adjust the speed according to your ability.
Learn and master piano covers
Below is an example of one of the sessions from the DVD series:

Help and Support
The lesson book makes the transition of practicing to actually understanding the theory, effortless.  There is an online forum and support offered via the Learn and master piano website as mentioned earlier.  If you cannot find the answer to any question you might have from the community you can email or call the helpline numbers provided.
I'm afraid to say though, I did find the response time from email quite slow when tested (5 days to respond…).  However i was able to get through to the helpline pretty quickly, albeit passed from pillar to post, so may get expensive to call depending on where you are in the world.  Help with this package is possibly better gained from the website forums or a google search.
Summary
So, in summary, despite lacking the technological advancements of online training packages/MIDI capabilities… Learn and Master plano certainly makes up for this with outright comprehansive content and professional delivery.  For a software/online combination you will will be hard pushed to find a more comprehensive product for the price.
I did find that the curriculum is very in depth and as such may be more tailored toward adults.  Younger students may benefit more when supervised.  If you are looking for a system that is more tailored to child-focused learning i suggest you take a look at the Piano for kids section of my website.
However, Learn and Master Piano can still be a tool for children to learn piano.  A child supervised while learning with the system will get the best of both worlds, learning with a fresh and blood teacher/spending time bonding with their parents and having the great complement and enhancement of the Learn and Master Piano method.
Learn and Master Piano is a great overall system that is presented well combines excellent software and online features.  It is an ideal gift idea for those looking to learn piano.
Thanks for reading this review, I hope it was helpful.  As mentioned at the start, the Learn and Master Piano bundle is available direct from the Learn and Master Piano website which often has offers and discounted rates or delivered from Amazon.
If there is anything else i can do to help in your piano journey please feel free to browse my website further or contact me via email : Jon@waystolearnpiano.com

Jon




waystolearnpiano.com