Whether you are looking for private piano lessons, piano lessons for beginners,
piano lessons for kids, how to sight read or play by ear…
PianoKeyz is the answer
Product: PianoKeyz
Price: 30-day trial for just $0.99 then 1-year premium at $229.00 (just less than $20pm)
Platforms: Works with both Windows and Mac.
Pros: There are lessons for all skill levels, reletively cheap membership with extended 90 satisfaction guarantee and video content one of the best!
Cons: There isn't a way to track your practice progress.  There is no MIDI capability and a lack of interactive features.
PianoKeyz is founded by instructor Ryan Jones, who provides online piano lessons for all skill levels.  The lessons are delivered in videos accessible via the PianoKeyz website providing you are a subscribed member.
Although, as with other programs offering lessons in this format, a lot of PianoKeyz video content can be found on YouTube and watched for free.  However not all of it and essentially the most sought after song tutorials will only be accessible to paying members through Ryans website.
This is a tact often used by online piano tutors and most will fail to get their YouTube fans to become paying members, but Ryan i believe is one of the few i think will succeed.  Carry on reading to find out why…..
Overview
PianoKeyz offers a wide variety of lesson styles and tutorials and teaches you how to play popular songs.  The lessons are kept up to date reguarlarly as Ryan posts new lessons and songs on a weekly basis.
The lessons can be watched via your mobile, tablet, laptop, computer and well organised on the simple to use website.
PianoKeyz offer a 30-day trial for less than $1 which is obviously very cheap (albeit i feel its just a ruse to grab your details, it may as well be a free trial membership).  Following this, there is then only one way to join as a full member which is by paying a yearly subscription at $229.00.
This being said, if you enjoyed the trial and are committed to learning piano or even just want to take advantage of the latest quality song tutorials available, at less than $20 a month the membership fees aren't actually bad at all.  It sits in the same bracket as other programs such as Playground Sessions or Piano Marvel.
PianoKeyz does however fall short of the features on offer when comparing it to these programs due to its lack of MIDI functionality.  You are unable to track your progress in any way and will be reliant on your own self monitoring.
What it lacks in interactive features though, it surely makes up for with the quality of video content.  If you like learning with a tutor online va video tutorials, PianoKeyz is excellent!
Ryan does a fantastic job at keeping you engaged as you learn how to play piano. The lessons dive right into musical theory without overwhelming you with information.
The videos are very crisp and clear making it easy to follow, they also have the score or notes displayed above the keys as Ryan plays.  He doesn't rush you and gives a realistic indication on how long each song will take to master.
Have a watch of one his lessons below (Disneys Frozen) to get an idea of the kind of tutorials on offer:
First Impressions
My first impression of PianoKeyz when logging on to their website, was being impressed with how smart and tidy it looked.  I wasn't overwhelmed with information or put off by the prospect of a long complicated journey into learning piano… this theme continued throughout my experience as a paying member.
I signed up to the $0.99 trial and found that everything was super easy to follow, cleanly laid out, everything categorised as it should be and even at a glance i was spoilt for choice with interesting lessons.
The videos are presented superbly and at a decent pace.  Ryan does a fantastic job at keeping you engaged during the lessons and making sure you fully understand each part without slowing the lesson too much.  I get the impression that Ryan will teach songs with a nice unique spin so you will be able to put your own mark on whatever song you learn.
I was impressed with the amount of songs available and how modern and up to date the list is.  I think this is mainly down to my niaevety to think that all the songs were available on YouTube anyway… this clearly is not the case!
As a paying member you benefit from so many songs you want to learn but struggle to find tutorials for on YouTube and with PianoKeyz being one of the biggest channels for song tutorials on YouTube, this gives members a decent sense of value.
User interface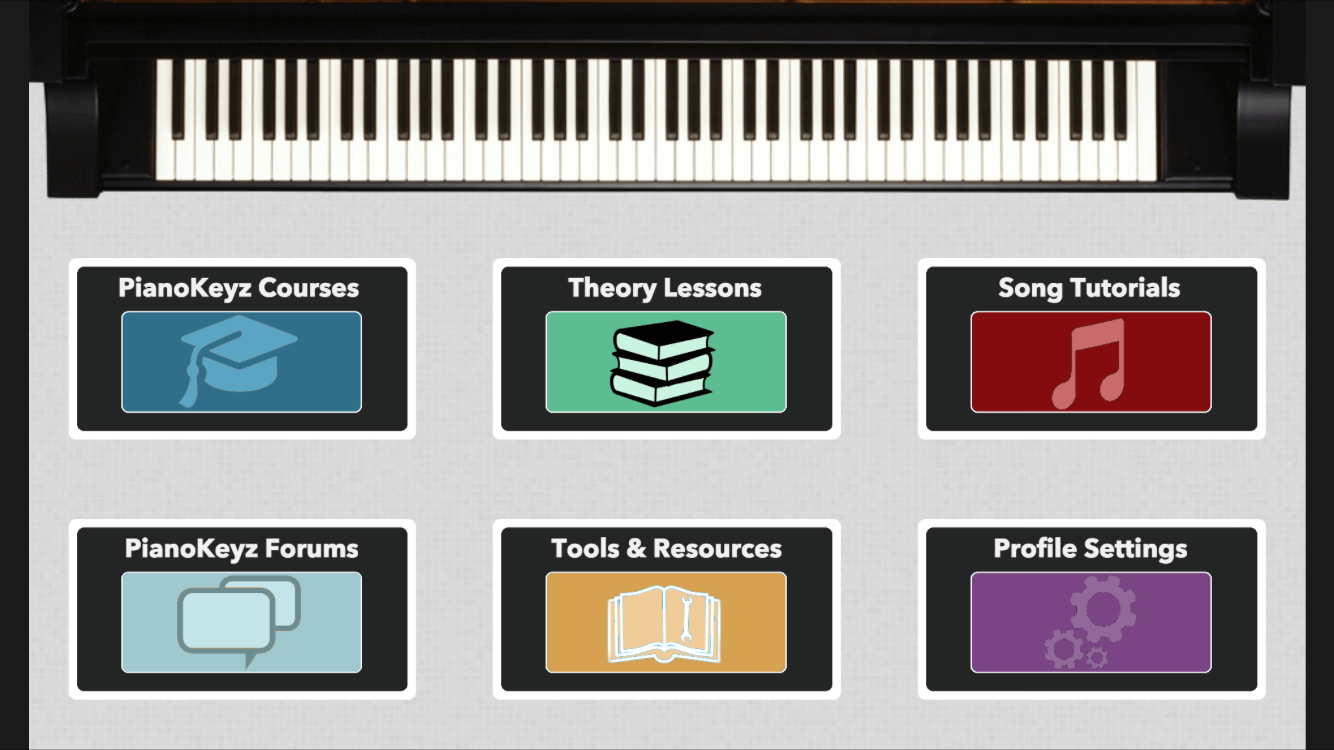 Obviously with this program predominantly having a heavy video content, the user interface is simple.  Within the videos you have a clear view of the piano keys which have the notes and chords light up above the corresponding keys and they are further displayed in script above the piano.
The only user input required here is to press play, stop, pause, rewind and fast forward… If you can work a remote control you are good to go!
It would have been nice to see some interactive features such as being able to set certain sections of video on repeat or change pace.  Hopefully this will be available in time..
The Lessons
The lessons are plentiful and thorough.  They are well categorised and structured to get you comfortable before moving on to the next.  The lessons cover a wide variety of playing styles, from modern, cocktail style, blues to even how to write your very own song (which is something not offered other piano training software).
Ryan wastes little time getting into the music theory of piano as you learn major scale in all 12 keys by the second lesson (this being the longest lesson in the beginners group at 33 minutes).
The majority of lessons in the beginners group are below 20 minutes and are delivered at a good pace to keep you engaged.  Ryan is a master at 'playing by ear' and you will learn how to do this during the lessons.  There is very little emphasis however on sight-reading sheet music.
The song choices
PianoKeyz has a large library of songs for you to learn, all delivered by Ryan in equal quality video tutorials.  You will find classical as well as modern top 40 hits.  The choice is very good and current with the library being updated reguarly.
Compared to other programs available PianoKeyz stacks up well and has a decent amount of songs to choose from.  PianoKeyz covers a wide variety of piano playing styles, keeping players with different interests engaged.
Help and support
Even as a free member, I found the help and support with PianoKeyz to be second to none! If you email support you get a response from Ryan himself very quickly, i found questions being answered within 12 hours and some immediately.
One thing keeps students wanting to learn piano online is feedback.  It is important to know how you are progressing. Due to video nature of lessons, there is no way to track your progress physically with scores or saved data but PianoKeyz seems to solved this with a unique feature.. Students can upload videos in the forum section for Ryan to critique and provide feedback of your performance!
This way you are not getting an automated response from software, but a real person giving you actual feedback.  You can also request any song or lesson if there was nothing you wanted to learn that isn't currently available on the website.
Summary
In summary, i have found the video content in PianoKeyz to one of the best for lessons.  The lack of MIDI capability is a downfall but it didn't fail to impress without it.  This is a testament to the quality of the video content and Ryan Jones with his ability to keep students engaged.  Ryan is possibly one of the best piano teachers you will find online and is shown by his popularity on YouTube.
Also despite the lack of MIDI, if you want feedback on your progress, you can upload videos to the website and have the instructor provide you with feedback on your playing.  This is a real bonus and a unique feature which can be a real game changer in my eyes.
My overall experience with PianoKeyz has been a good one and despite reservations i was pleasantly surprised at what PianoKeyz has to offer.  I would recommend it to any budding pianist!
Thank you for taking the time to read my review of PianoKeyz, i hope it has been useful.  if you have questions, views or opinions on any other training you have found online or just want advice on ways you can learn piano, please contact me and i will be happy to help Jon@waystolearnpiano.com.
Jon
www.waystolearnpiano.com